Digital X-Rays
Using the most advanced orthodontic technology possible is just as important as staying up-to-date on the latest treatment techniques. Because our practice is dedicated to providing you with the safest and most convenient treatment options available, we utilize advanced digital X-ray technology in our office.
Digital X-rays provide several advanced imaging options designed to save time, provide clearer dental photos, and expose patients to less radiation than traditional X-ray technology.
Our practice is focused on making your orthodontic experience as comfortable as possible. At your next appointment, we'll be happy to answer any questions you may have.
---
LightForce™ Orthodontics
Because your smile deserves more than "one size fits all."
LightForce is a digital orthodontic system that provides our office with customized, 3D printed tooth-moving tools. This proprietary treatment planning software is combined with advanced 3D printing technology to create custom treatments to meet your unique orthodontic needs. Treatment with the LightForce system starts with the final goal in mind—your beautiful smile.
The LightForce Advantage
Technology: 3D-printed bracket slots are more accurate and precise than traditional injection-molded bracket slots.
Customization: Fully custom appliances are proven to reduce treatment time and improve quality of the results.
Comfort: Tooth movement is expressed more gradually with "light force" via NiTi wires vs. bent beta-titanium and steel wires.
Convenience: Fewer, shorter duration appointments and increased intervals between appointments.
The LightForce System
LightPlan Treatment Software: Intuitive digital treatment planning software that enables us to create and adjust treatment plans.
LightTray Indirect Bonding: Ergonomically designed, indirect bonding trays are 3D printed for each patient, providing superior placement accuracy.
Cloud Brackets by LightForce: Powerful 3D printed ceramic brackets are configured to your specific treatment plan.
---
Intraoral scanner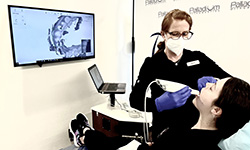 More than Just an Impression
We're dedicated to making your orthodontic treatment as easy, efficient, and comfortable as possible. That means using state-of-the-art imaging throughout your treatment. The intraoral scanner can be used with all the treatments offered at our practice, from clear aligners to traditional metal and clear braces.
The intraoral scanner allows us to have complete control over all aspects of your smile transformation, from your very first appointment to the day you receive your retainers!
Intraoral scanning:
No need for traditional alginate (goopy) impressions
Allows us to start, stop, and restart scanning at any time
High-quality digital impressions improve diagnostics and communication
Accurately captures your bite in real time for a comprehensive diagnosis and treatment planning
Reduced visits and chair time with easy fit of customized appliances or brackets with indirect bonding
Monitors your progress by virtually removing brackets and comparing your tooth movement with your treatment plan
Digital impressions can be used to virtually debond brackets for retainer preparation