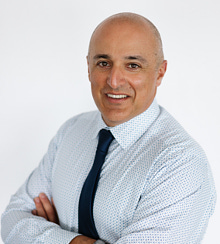 Dr. Moe Razavi and his wife, Celeste, have resided in Ottawa for over 10 years, and are proud to be raising their two children in the Nation's Capital. Outside of the office, Dr. R enjoys spending time with his family: being active with his children, taking in the many local museums and restaurants, and travelling.
After receiving his undergraduate degree from University of Toronto, Dr. Razavi received both his Doctor of Dental Surgery degree and Master's degree in Orthodontics from Case Western Reserve University in Cleveland, Ohio. He was invited to teach at the orthodontic department at Case upon his graduation, and he continues his teachings as a visiting assistant clinical professor at Case. In addition to teaching orthodontic residents, he teaches colleagues both nationally and internationally on advanced treatment techniques. Dr. Razavi has authored in multiple journals, textbook chapters and is currently a reviewer for The American Journal of Orthodontics and Dentofacial Orthopedics, Journal of Clinical Orthodontics, and the Australian Journal of Orthodontics.
Dr. Razavi practiced in Cleveland for 5 years where he served as the orthodontist for the Cleveland Browns and on the Craniofacial Team at the Cleveland Clinic, and in 2009 Dr. Razavi moved to the Ottawa region to be closer to his family.
Dr. Razavi is board certified as a Diplomate of the American Board of Orthodontics, and as a Fellow of the Royal College of Dentists in Canada. He is also a member of the Canadian Association of Orthodontists, Ontario Association of Orthodontists, American Association of Orthodontists, and other professional organizations.
Choosing an orthodontist is an important decision. There is a lot to consider when selecting an orthodontist for your family. That decision should be based on the orthodontist's expertise and experience as well as a commitment to providing the most advanced orthodontic treatment in a convenient and comfortable office. Dr. Razavi is recognized by his colleagues and patients as a consummate professional and is well-known in the dental and local community for providing excellent orthodontic treatment for children and adults.