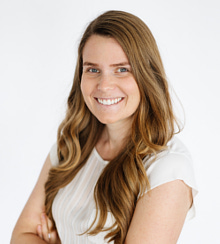 Dr. Jennifer Boogaards and her partner Martin are new residents to the Ottawa region, having moved to the area from London, Ontario in the summer of 2022. She and her family are thrilled to be joining the community and are excited to explore their new city in the years to come, doing the things they love most: hiking with their dogs, camping, skiing, travelling, and exploring museums.
Dr. Boogaards grew up in Kingston, Ontario and moved to London, Ontario to attend the University of Western Ontario, where she obtained a Bachelor of Science Honours Specialization in Biology in 2012, followed by her Doctor of Dental Surgery degree in 2016. After practicing as a General Dentist for three years, Dr. Boogaards decided to return to school to pursue her lifelong dream of specializing in Orthodontics and completed her Residency in Graduate Orthodontics and Dentofacial Orthopaedics at the University of Western Ontario in 2022. Throughout her years of study, Dr. Boogaards was honoured with numerous awards, including, but not limited to, the Centennial Orthodontic and Paediatric Dentistry Award in 2015 and the Western Gold Medal in 2016 for her dedication to the dental field and subsequent accomplishments in the DDS program. During her Orthodontic Residency, Dr. Boogaards was awarded the John and Nancy Murray Prize in 2021, and most recently the P.J. Blake Memorial Award in 2022.
Dr. Boogaards is a member of several professional organizations including the Canadian Association of Orthodontists, the American Association of Orthodontists, and the Ontario Association of Orthodontists. She is committed to providing exceptional care to her patients and is devoted to expanding her knowledge base through continuing education. In this way she will stay up to date with new developments in Orthodontic treatments and technologies in order to provide our patients with comfortable, compassionate, and quality care for years to come. We are pleased to have a new skilled practitioner to help provide the best possible care to our patients. Dr. Boogaards embodies our practice's philosophy of putting patients first and we are certain she will be an asset to our office.